"Aaj mere paas bangla hai, gaadi hai, paisa hai. Kya hai tumhare paas? Mere paas maa hai!" You don't have to be a movie buff to recognize this classic line.
This evergreen dialogue exchange from the 1975 movie Deewar is etched in the minds of a whole generation of Indians forever. And subsequent generations are still familiar with it—even if they haven't watched the actual movie. That's what sets a classic movie apart from the plethora of Bollywood movies that are churned out every day.
Some films are famous for their one-liners, some for amazing performances, while others are known for their fantastic storytelling. Here, we've compiled a list of 30 such classic Bollywood movies, which we think you should watch at least once in your lifetime. This list is in no particular order.
1) Mother India (1957)
Directed by Mehboob Khan and with Nargis as the protagonist, Mother India is the story of an impoverished woman fighting through unfathomable hardships. Nargis' character is a loving mother, a strong, ideal Indian woman and a symbol of self-sacrifice who never compromises on her moral code. The movie was even nominated in the category of Best Foreign Film at the Academy Awards.
Also, did you know Mother India was the remake of Mehboob Khan's earlier movie Aurat?
2) Bobby (1973)
The second highest grossing Bollywood movie from the 1970s, Bobby, was about teenage love. The plot line was fresh and it became an inspiration for several movies later on. While parts of the plot line may seem clichéd now, overall, it will still give you that unique feeling of having watched a trend-setting movie.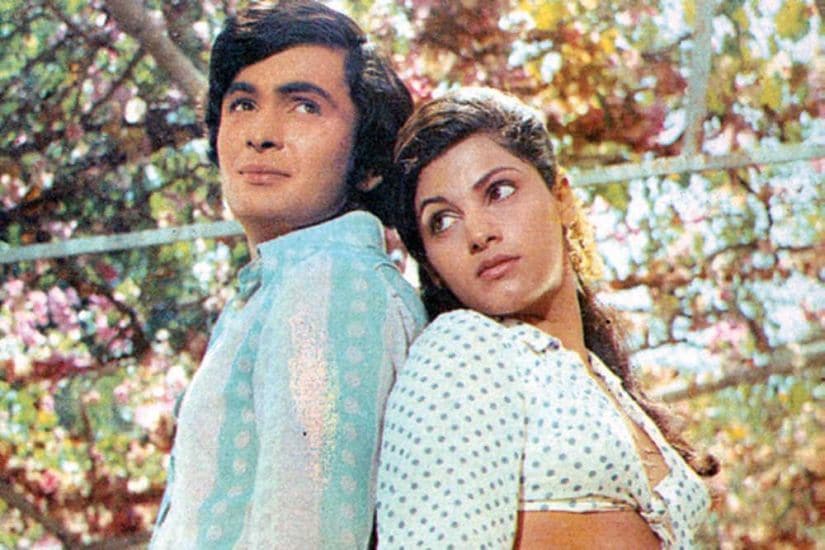 3) Guide (1965)
Raju (Dev Anand) is a tour guide who falls in love with a married woman, becomes a holy man without meaning to, before finally finding his true spiritual calling. Sounds odd for a plot line? Well, not really. Amazing direction by Vijay Anand, superb acting and a melodious soundtrack makes this movie a must watch!
You should also know that the movie was based on R. K. Narayan's novel, The Guide.
4) Deewar (1975)
A story about two bothers—one, an honest policeman and the other a criminal—this movie established Amitabh Bachchan as the angry young man of Bollywood. The movie is also recognized for showcasing a female lead as a liberated Indian woman, a thing that was rare back in the days.
This is a Bollywood classic for more than one reason. For instance, this is the movie in which Vijay (Amitabh Bachchan) has the now famous line "mera baap chor hai" tattooed on his hand.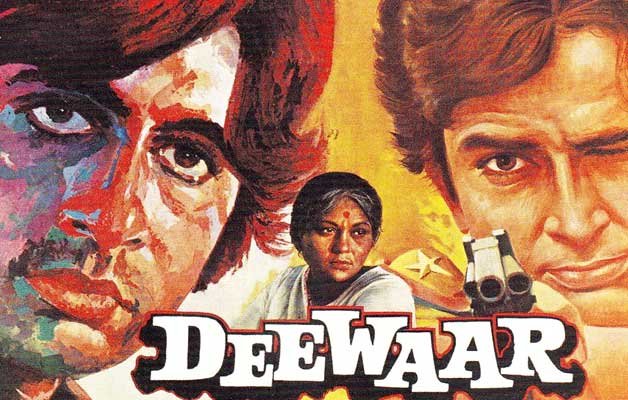 5) Umrao Jaan (1981)
Muzaffar Ali's Umrao Jaan, starring Rekha, is an epic tale of a famous Lucknow courtesan. Rekha effortlessly brings the role to life and manages to capture your attention totally, pulling you into the character's life.
This film is based on a 1905 Urdu novel Umrao Jaan Ada.
6) Bawarchi (1972)
Superstar Rajesh Khanna is well-known as a serious actor, but he proved to be just as excellent in a comic role in Bawarchi. His performance won him a BFJA Award for Best Actor (Hindi). The movie, itself inspired by a Bengali film, was remade quite a few times in different languages.
7) Ankur (1974)
Shabana Azmi and Anant Nag made their debut in this classic, directed by none other than Shyam Benegal. The story is about a landlord who falls in love with his maid. Throughout the narration, the film brings out into the open several social issues such as casteism, child marriage, dowry, etc.
While not a mainstream Bollywood film, this art film won 3 National Film Awards and was nominated for the Golden Bear at the 24th Berlin International Film Festival. In total, the film bagged more than 40 awards both in India and abroad.
8) Gol Maal (1979)
Gol Maal is the second comedy movie on our classics list and for a good reason. It has all the ingredients required to make your funny bone tickle—the right amount of silliness and chaos, coupled with excellent performances. The film won 3 Filmfare awards, including one for Best Lyrics for the song "Aanewala Pal"
9) Do Bigha Zameen (1953)
This parallel cinema or art film by Bimal Roy was inspired by Italian neo-realistic cinema. The story is about the struggles of a farming family to save their small patch of land. While not a great commercial success, the film did win the heart of critics.
It was the recipient of the All India Certificate of Merit for Best Feature Film and the Best international film award at the Cannes Film Festival. It was also the first film to win the Filmfare Best Movie Award.
10) Padosan (1968)
Bhola's (Sunil Dutt) hilarious attempts to woo his new neighbour, Bindu (Saira Banu) is a must watch. Padosan was a remake of the Telugu film Pakkinti Ammayi.
11) Chhoti Si Baat (1975)
Easily one of the best Bollywood comedy films till date, Chhoti Si Baat established Amol Palekar as the industry's resident timid funny man. The film was a commercial and critical success.
12) Jab Jab Phool Khile (1965)
This film from the 60s, starring Shashi Kapoor, was a blockbuster not just in India, but was also popular in some North African countries. In fact, the film was in demand in Algeria for a few years.
The best parts of this film are the wonderful songs composed by Kalyanji-Anandji, which are shot in Srinagar.
13) Mughal-E-Azam (1960)
This Indian epic film was grand in every sense of the word. It was the most expensive Bollywood film made at the time and the highest grossing film for 15 years. This is the only Indian film to get a theatrical re-release and the only Bollywood film to be digitally coloured.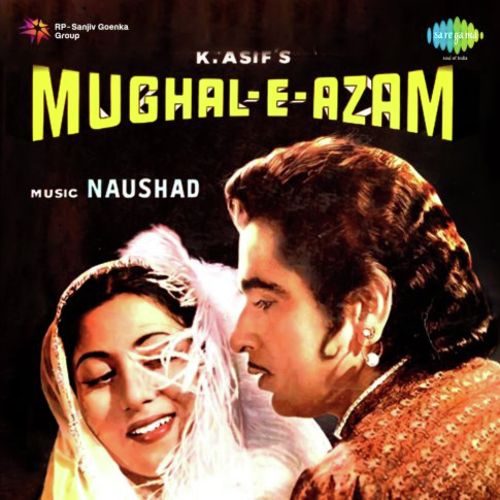 14) Awaara (1956)
This love story starring Prithviraj Kapoor, Raj Kapoor, Nargis was an instant hit not just in India, but also the erstwhile U.S.S.R, some African countries, China and other South East Asian countries. Awaara is considered to be one of the greatest all-time films, not just in Bollywood, but overall.
15) Amar Akbar Anthony (1977)
A film about religious tolerance, it took up the tried and tested lost-and-found theme to tell you the story of three brothers who are separated when young and are raised in three different faiths, who finally unite and fight a common enemy.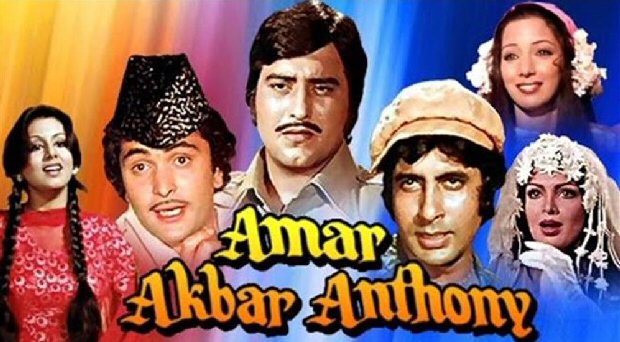 16) Anand (1971)
Anand (Rajesh Khanna) is a terminally ill cancer patient who has accepted his fate and wants to lead life to the fullest. His story is narrated to us by his doctor Bhaskar (Amitabh Bachchan), who is greatly moved by his patient's high spirit, cheerful and calm demeanour.
Anand is the 2nd highest rated Indian movie in IMDB.
17) Aradhana (1969)
Voted as the best film of the year by Filmfare, Aradhana is as much Sharmila Tagore's film as it is Rajesh Khanna's. It even won Tagore her first Filmfare Best Actress Award.
The film was remade in Tamil and Telugu.
18) Kaaghaz Ke Phool (1959)
Produced, directed and acted by Guru Dutt, the film was a commercial failure when it was released. However, during the 80s, it was reborn as a world cinema cult classic. The story is considered to be ahead of its time and is about the life of a successful film director who dies a lonely death.
19) Hare Rama, Hare Krishna (1971)
Dev Anand's Hare Rama, Hare Krishna tackled the issue of drug and alcohol abuse using the degenerating Hippie culture as the theme.
The film made Zeenat Aman a Bollywood star and her acting even won her the Filmfare Best Supporting Actress Award and a BFJA Award for Best Actress.
20) Devdas (1955)
Superb acting and exceptional cinematography make Bimal Roy's Devdas one of Bollywood's all time bests. The film won four Filmfare awards and a National Film award.
21) Chalti Ka Naam Gaadi (1958)
The film features Kishore Kumar and his two brothers in comic roles. However, more than the film itself, it's the evergreen songs, many of which were sung by Kishore himself, that make this movie memorable.
22) Don (1978)
This epic action thriller with an engaging storyline will keep you entertained till the end. Bollywood's angry young man's original rendition of Don is a memorable one.
23) Pakeezah (1972)
Yet another cult classic film, Pakeezah is well known for Meena Kumari's stunning performance and Kamal Amrohi's direction. This was to be Meena Kumari's last film as she passed away soon after its release.
24) Jaane Bhi Do Yaaro (1983)
This cult black comedy film has some top-class actors in it such as Naseeruddin Shah, Om Puri, Pankaj Kapoor and Satish Shah among others. The story's theme is corruption in general, but it will give you some good laughs.
25) Pyaasa (1957)
Another all-time great film, Pyaasa once again has Guru Dutt as producer, director and actor. The story is about an unsuccessful poet in post-independent India. Time magazine has included it in their list of top 10 romantic movies.
26) Sahib, Bibi Aur Ghulam (1962)
Yet another Guru Dutt starrer film, Sahib, Bibi Aur Ghulam has Meena Kumari in a central role as the Chhoti Bahu, a performance that was highly praised. The film showcases the decline of aristocracy and feudalism while simultaneously being a murder mystery. Also to be noted is the stunning cinematography.
27) Shree 420 (1955)
This is the movie that features the famous song "Mera Joota Hai Japani," sung by Mukesh. Rajesh Kapoor returns as a Chaplinesque character in the film. Shree 420 was successful in replicating Awaara's success to a great extent as it was well received both in India and abroad, especially in the U.S.S.R.
28) Sholay (1975)
No classic Bollywood movie list can be complete without the mention of Sholay, the epic story of friendship between Jay and Veeru. Interestingly, Sholay was initially a failure due to unfavourable critical reviews, but it eventually went on to become one of the highest grossing Bollywood films of all times.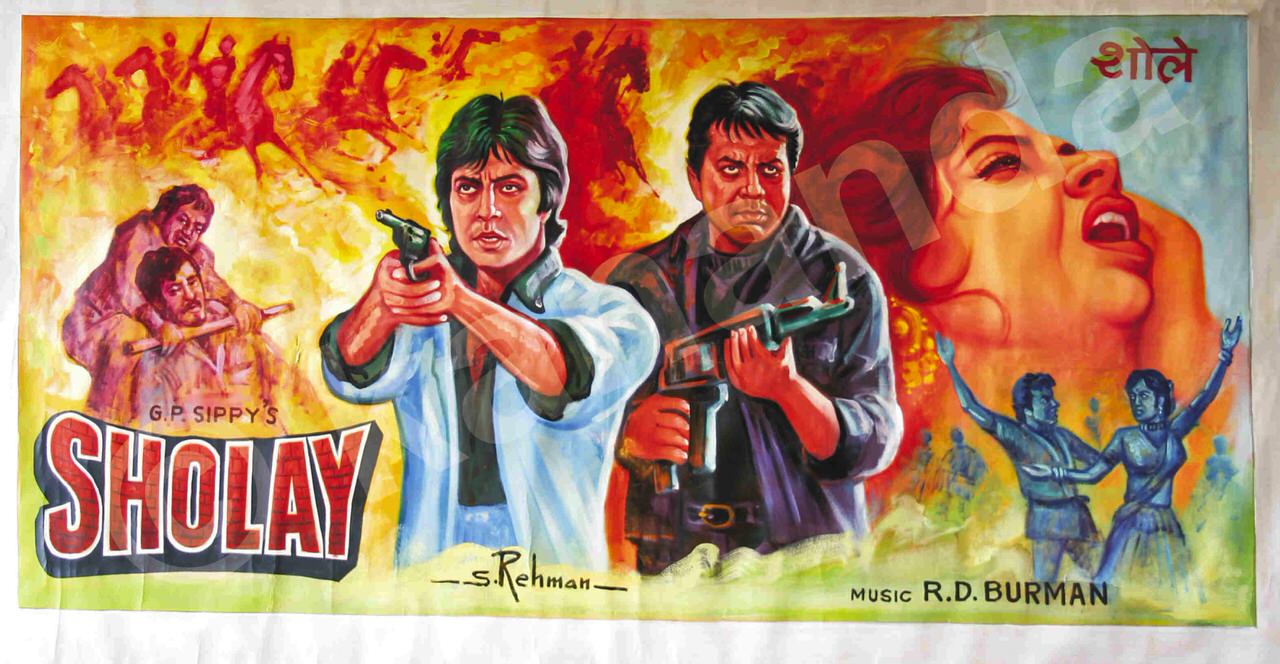 29) Silsila (1981)
Silsila is one of those films that did not perform well at the Box Office initially but eventually went on to be considered a classic. An interesting fact about the movie is a rumour that the plot was inspired by the alleged real-life love triangle of Amitabh Bachchan, Jaya Bachchan and Rekha, the three lead actors of the film.
30) Aandhi (1975)
This one combines two far away themes—romance and politics—extremely well. The performances by Sanjeev Kumar and Suchitra Sen are an added bonus.