You must be doing everything to make your wedding a perfect one. From pre-wedding photography to reception, and from invitation cards to dinner menu, each small thing must be planned perfectly. And why not…! It is one special moment of your life. Post wedding, the sweetest gift which you can give to your soul-mate is a romantic honeymoon. So, it shall be the best of the rest.Here are handpicked top 10 honeymoon destinations in India for your ideal.
Here are handpicked top 10 honeymoon destinations in India for your ideal post-wedding holidays.
1. KASHMIR 
KASHMIR is the lover's paradise. Its beauty is legendary and irresistible. Kashmir is the Indian Switzerland which is a perfect place for the honeymooners. Its cool temperature complimented by pearl white snow provides an ultimate atmosphere to melt you two into each other. Kashmir valley shall keep you engaged for an extended honeymoon.
PLACES to Visit: Gulamrg, Sonamarg, Pahalgam, Dal Lake, Srinagar.
2.COORG
Known as the Scotlandof India, the lush green hill-station, also known as Kodagu district, is ideal for an isolated and quaint honeymoon. Accessible from Bangalore, Mangalore as well as Mysore, some of the popular tourist spots here include Talakaveri – place from where river Kaveri originates, Dubare elephant camp where the tuskers are bathed and cleaned every day (and elephant rides are also on offer) as well as Abbey Falls, scenic waterfalls near Madikeri, the main town in this district.
3.GOA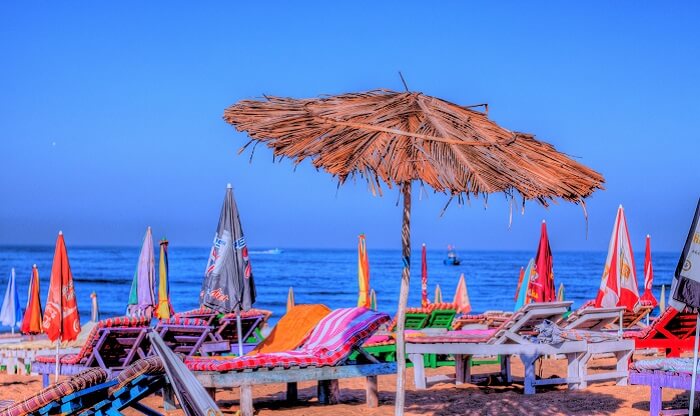 The land of sun, sand and sea – Goa is one of the top honeymoon destinations in India. It is the primary honeymoon destination choice of all the couples. Soothing shores, beautiful beaches, never-ending nightlife and appetizing food with glass of feni. What else you wish from your honeymoon.
PLACES to Visit: Beaches, Caves, Waterfall, Forts, Museums, Temples, Heritage Mansions, Churches, Towns in Goa and its rock art
4. MUNNAR
The exotic locations of 'Gods Own Country' provoke you to stay here for lifetime. Munnar is a hill station in Kerala. Lush green hills, tea gardens, houseboats, lakes and mountains are enough to keep you in.
PLACES to Visit: Kurinjimala Sanctuary, Chinnar Wildlife Sanctuary, Manjampatti Valley, Amravati Reserve Forest and Indira Gandhi Wildlife Sanctuary.
5.OOTY 
Ooty is located in the Nilgiri hills and is one of the most celebrated hill stations. It promises a romantic honeymoon with lots of attractions in the town such as the Botanical Gardens, Rose Garden, Ooty Lake and Dodabetta peak.
6. ANDAMAN & NICOBAR ISLANDS
If you are low at budget to manage your honeymoon at Maldives or Mauritius you can turn on to Andaman and Nicobar Island. Its sun-line beaches and dashing islands with natural beauty will surely win your heart. Clear blue water with healthy marine life and wide variety of water sports, it is a great combo of romantic yet adventurous honeymoon destination. It can be the no.1 choice for your honeymoon.
PLACES to Visit: Adventure Sports, Cellular Jail, Mahatma Gandhi Marine National Park, Andaman Water Sports Complex, Naval Museum, Ross Island, Viper Island, Forest Museum and others.
7. SHIMLA
Shimla is its capital and among the most visited place in Himachal tour. The state is covered with immense natural beauty and is one of the most popular tourist destinations in India. Himachal Pradesh is blessed with some of the most spectacular and beautiful landscape with mighty snow peaks, deep gorges, lush green valleys, misty woods, fast flowing rivers, enchanting lakes and flower filled meadows, making it a popular honeymoon destinations in India. Owing to the huge production of apples, Himachal Pradesh is also known as the 'State of Apples'. The toy train between Kalka & Shimla is a special attraction and is among the UNESCO World Heritage Sites.
8. Darjeeling
Darjeeling is a lovely hill station which will make your honeymoon memorable. The acres of tea plantations and chilly weather will be the icing on your honeymoon cake!
9. JAISALMER 
Head to Rajasthan if you want to spend your honeymoon like royalty. This gorgeous city offers history, places, elephant and camel back rides and lots more. You can also check out other popular honeymoon destinations in Rajasthan such as Mount Abu, Bikaner, Jaipur, Jodhpur and Udaipur.
10. Lakshadweep
Lakshadweep is the smallest union territory of India and has the most exotic and uninhabited beaches. The beaches here have a bluish-green tinge and white sands. To heighten your honeymoon experience, book one of the cosy beach cottages.
THAT'S ALL FOR YOU.