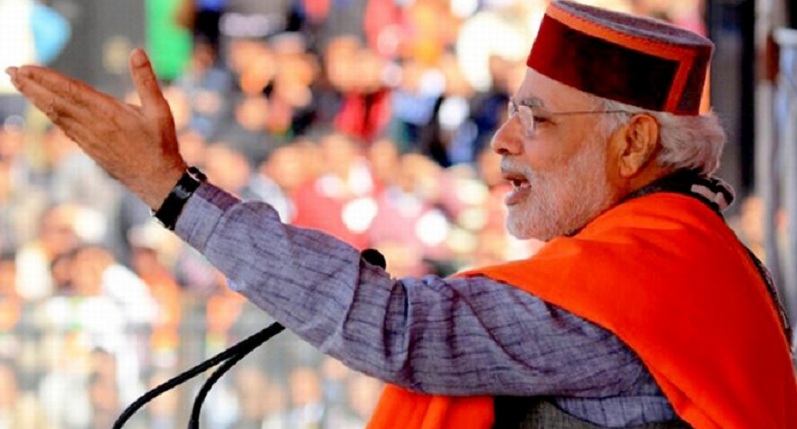 PM Takes Dig at Congress Manifesto Promising Zero Tolerance on Corruption
 While addressing a rally in Kangra district of Himachal Pradesh ahead of the assembly elections, Prime Minister Narendra Modi took a dig at Congress' manifesto promising zero corruption in the state, citing chief minister Virbhadra Singh's disproportionate assets case. "HP CM is embroiled in corruption yet Congress in manifesto says there will be zero tolerance of corruption," PM Modi said while addressing a rally in Rehan in Kangra district ahead of Himachal Pradesh Assembly Elections 2017.
PM Modi started the address by acknowledging those present at the rally. "I wasn't too eager to come here when we were planning rallies and meeting in Himachal Pradesh because it wasn't needed. I know we will win anyway," he said and the crowd erupted in a big cheer.
HIGHLIGHTS OF PM MODI'S RALLY IN REHAN, FATEHPUR
The people of Himachal have a chance to say goodbyes to those who have looted the state for long: PM Modi
I can sense the love you have for the BJP. You know which is the right choice. You'll automatically press the correct button after that: Modi.
Before voting, take a moment and think about the great freedom fighter Ram Singh Pathania: PM Modi
The fate of Himachal Pradesh will take a turn on November 9. I urge you to press the right button and ensure that the party you love returns to power: PM Modi
I have worked extensively in Himachal Pradesh, very familiar with all cities and know each and every street here: PM Modi
It is time to make the Dev Bhoomi truly a Dev Bhoomi by getting rid of the evil: Modi
Taking a dig at the Congress party, PM Modi said that while releasing the manifesto, Congress party promised zero tolerance on corruption in Himachal Pradesh. "Virbhadra Singh has himself been granted bail in a corruption case. Even a child won't believe it," he said.
Congress has now become a laughing stock. The party needs to introspect why people are turning away from them one by one: Modi
The country has suffered enough under decades of Congress rule, the people have now decided not to spare the Congress: PM Modi
Forests are being looted and your future is being looted: PM Modi
There are five monsters in Himachal Pradesh which we need to get rid off – Mining mafia, forest mafia, drug mafia, tender mafia, and transfer mafia: PM Modi
Does Congress have any right to insult the bravehearts of the country? One of their leaders (P Chidambaram) had spoken about freedom of Kashmir: Modi
We are proud of our jawans. The state a Veer Bhoomi. Contributions and sacrifices of our jawans are invaluable: PM Modi
Congress is not a party of Mahatma Gandhi or of freedom fighters. It is a party which deals with corruption, dynasty politics, and casteism: Modi
Country is aware how the Doklam issue was dealt with, but the Congress even questioned that: PM Modi
Someone born in a family which has ruled for decades doesn't believe his own Army and agencies? Meets China's envoy and asks about Doklam: PM Modi
PM Narendra Modi today visited the Fatehpur Assembly constituency in Kangra district in Himachal Pradesh ahead of the assembly elections in the state. Modi will address another rally in Dhaula Kuan in Paonta Sahib constituency of Sirmaur district at around 1.30 PM.
Narendra Modi will also address rallies in Sundernagar in Mandi, Rait in Shahpur and Palampur in Kangra on November 4, and in Kullu and Una on November 5. Himachal Pradesh is set to go on polls on November 9.